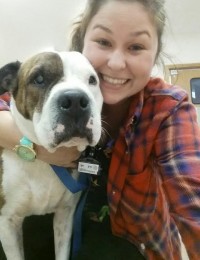 Veterinary Assistant
Education: Harrison College
Hometown: Monrovia, IN
Pets: Katie has two dogs; a miniature dachshund named Slinky and a Redbone Coonhound named Annie Ann. She also has three cats named Tater Soup, Taz, and Lucy. She also has an Arab/Quarter Horse mix named Sis. While we all love the clinic cat, October, she is her primary caretaker.
Katy Baker joined Country Critters Veterinary Clinic in March 2007. Katy has always had compassion for animals.  She grew up on a farm with livestock her entire life. She became interested in the veterinary profession because she wanted to help her dad and grandfather take care of the family's livestock.
In her free time, Katy enjoys Rodeo, barrel racing her horse, "sis," kayaking, and taking care of her two beautiful boys.